Customer Segmentation: From Demographics & Psychographics To Predictive Modeling
Friday March 27, 2015, by Tracey Moon
When making decisions about where to spend money, what promotions to run, what loyalty programs customers will respond to and the like, we have long looked to a combination of demographic insight – who your most likely customers are – and psychographic information – why those customers are most likely to buy your products or services. However, the next frontier for customer segmentation will rely on analyzing the combination of these two dimensions and combining that with data patterns. By also evaluating patterns of behavior such as reactions and actions of groups of consumers to brands, promotions, news, and so forth you can begin to predict what is going to capture the attention of a very specific set of potential customers.
In today's highly competitive retail banking environment, achieving this mature execution for customer segmentation has become a primary tactic for accelerating growth. It is no secret that today's' consumer is highly demanding and when it comes to retail banking, consumers have so many options available to them that they can find the exact right fit for their wants and needs. Diversity and individualism is driving behavior like never before. And, for marketers, targeting the right customers becomes increasingly murky as norms become more and more rare.
So, how will you appeal to potential customers' desires and align your offerings to their specific needs?
The only way is to get at the data, analyze it, and build not just insights from it but to develop highly accurate profiles and predictions about what will excite each segmented customer base enough to not just take action but stay with you for the long term. Therefore, the customer segmentation strategy you develop must be dynamic and nimble enough to keep up with the changing needs of customers.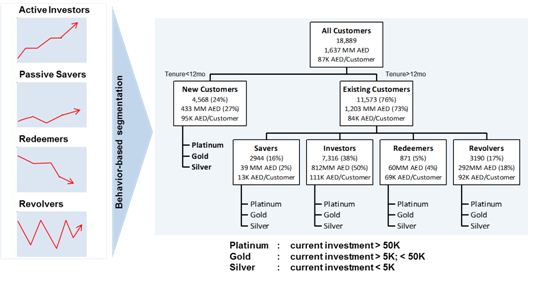 To succeed, it's essential to use today's cutting-edge banking analytics and predictive modeling to facilitate data-driven decision-making. And, you must start at the beginning by developing or evaluating your current customer segmentation strategy. Take the following five steps to get started:
Define Segmentation Parameters Know the segmentation parameters and capture information on them across channels. Challenge your current thinking about your customers and put yourself in the shoes of today's consumer. What do they see? How are they making decisions and with what input? What do they need from their banking institution today versus when you first developed your initial target segment? Information may be obtained via transaction data, secondary research, customer feedback and CRM systems.
Define Customer Segments Understand the needs and behavior of the different segments; learn their demographics, product patterns and lifecycle stage. And, go beyond the basics. Review your current psychographic data and challenge it as well. What other data is available to build a dynamic view of your customer's behavior today versus how they may react tomorrow.
Define Target Markets and Target the Desired Customer Segment Once you have completed #1 and #2 above, you will be prepared to develop hypotheses about what your identified segments will react to or what will prompt them to purchase and remain loyal. You will be in a much better position to aim your marketing strategies directly at this segment to achieve your goals.
Develop "Test" and "Control" Offers for Different Segments Develop segment-specific product, channel and operation strategies. Invite segmented customers to evaluate your offers and provide feedback. You can create a continuous feedback loop that is automated leveraging the latest tools and techniques to gather additional data that will make your models more accurate.
Measure Results and Refine Programs Measure feedback objectively and chart program success for each segment across channels.
Really getting to know your customers (and their "segment") may prove to be one of most efficient growth engines in banking today.
For more information, download our eBook Five Ways to Improve Customer Loyalty
---
Share Post